Charge currents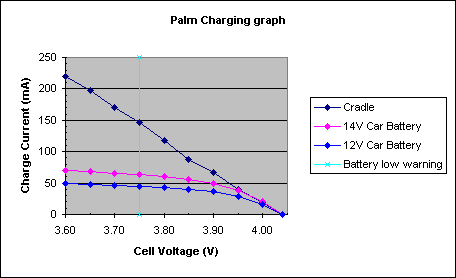 The charge current has been measured in the same manner as I did for the cradle (see cradle test). Because a car battery is not always totally full, the measurements were done with 12V as well as 14V applied to the power cord of the gps. When making long drives (that's when you really need a charger) the car battery is more likely to get close to 14V.
The charge circuit should have enough capacity to deliver power to operate the Palm and at the same time have some spare to fill up the lithium cells to a decent level. It will however not charge as fast as the cradle. That was not the aim when designing this circuit.
Should you really want to charge faster then you can always make R1 smaller (e.g. 68 ohm), but make sure it can handle the higher power dissipation. The inside of your gps will also become warmer during the period when the cell is low. Place R1 where it can do no harm.
Last updated: June 14, 2003